Beach-Sportsmore sand between your toes

You can rent several beachsport equipment's: Think about Beach Speedminton, mini Beach Soccer, Beach Tennis or Beach Volleyball! Just rent a set and off you go to the sunny beach!

to the beach

Green-Sportsfun in the park

Want to go green? We also offer sport equipment for fun activities for parks: Dodgeball, Crossminton, Volleyball. The equipment unconditionally suited for all the berliner parks. What about a birthday party with a sportive touch?

to the park

B2B?b2b.BEACH-SPORTS.de

You are looking for a suitable sport equipment for a summer party or business event? We are happy to present our new website for b2b. There you will find more offers on how we can support your event! (available only in german)

b2b.BEACH-SPORTS.de
Welcome Summer, Sun & Beach Sport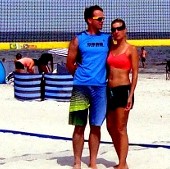 There's something for everyone.
No matter if you go for a short trip to the beach or to a birthday party in the park. No matter if you prefer to set volleyball or kick a soccer ball. Rent equipment for mini Soccer, (beach)volleyball, Speedminton or Beach Tennis! We also provide you with a GoPro (action camera) on top to capture the moment in a film.
Talk to you soon! Katie & Denny
News?
Shirtsnot only for the court

Here you will find shirts with proper beach motifs! Or you have a shirt which urgently needs a motif?

shirts'n'motifs

GoProbe right in the middle

With a GoPro you will be right on spot. Just put the cam on and GO FOR IT!

rent a cam